Danny Gorrer Had A Nice Game
August 9th, 2013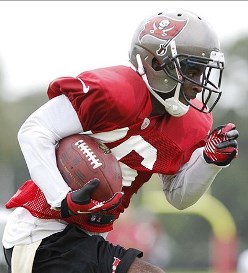 There were not many good things to take away from this ugly Bucs loss to the Super Bowl champion Crows Thursday night, but one good thing was the play of Bucs cornerback Danny Gorrer.
A mere hours after Nine Lives Myron Lewis was (finally) dropped off at Tampa International Airport with a one-way ticket in his clutches, Gorrer showed why Lewis had (finally) run out of lives with the Bucs.
Gorrer had two passes defended, a tackle and an interception, showing that, yes, the Bucs do have some decent depth in the secondary.
Gorrer also was hurt slightly in the game, but it didn't appear major. Joe spoke with Gorrer after the game and he was evasive and vague about his injury, not even going NHL on Joe with the troublesome "upper- and/or lower-body-injury" tag.
"It's nothing too serious," Gorrer said of whatever ailed him. "I will definetly be ready, hopefully, for New England. It's preseason. We all want to be ready for Week One."
As for his interception when Crows quarterback Joe Flacco tried to thread a needle between Leonard Johnson and Gorrer, it gave Gorrer a leg up in his wager with Johnson.
"We have a bet on who has the most picks and I am one up on him now," Gorrer said. "I am looking forward to eating good off of him."