Special Teams Not So Special
August 8th, 2013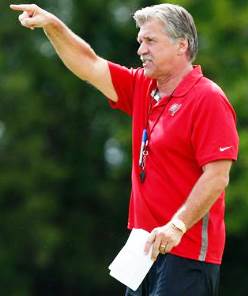 Now when Joe learned earlier this year that Bucs coach Greg Schiano hired Dave Wannstedt as his special teams coach, it surely raised an eyebrow.
Wannstedt, since 1986, has been a defensive coordinator or a head coach on the NFL and college levels. Joe thought it was strange Schiano hired a guy who hasn't coached special teams since perhaps he was a grad assistant at Pitt in the late 1970s.
Joe even thought that Wannstedt was going to be given some additional responsibilities, which Schiano denied to Joe at the NFL Combine last winter.
Thursday night in his debut as a special teams coach, the Bucs' special teams were anything but special. Dropped returns, fumbles, blown coverages, you name it. Kicker Derek Dimke saved a would-be kickoff return for a touchdown by the Crows when he he had a one-handed tackle on Bobby Rainey, which was flagged for a horsecollar. Hey, any penalty beats giving up six points.
Granted, this was the first game, a preseason game. Many players on special teams will be teaching history come September. Some players were playing special teams maybe for the first time since high school.
While the players were likely new and rusty to their responsibilities, perhaps so too was their assistant coach, Wannstedt.