How Much Of The Playbook Can Glennon Handle?
August 6th, 2013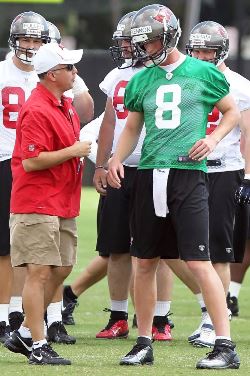 Bucs fans will see an awful lot of Mike Glennon Thursday night in the preseason opener. Joe would be surprised if Josh Freeman got more than two offensive series.
But how much of the playbook can Glennon handle? Joe chatted to Glennon about that today, and Joe walked away feeling like Glennon, as he's said previously, is still deep in a learning curve.
"I'm sure they'll call plays to my strength, plays I'm comfortable with as of now," Glennon said.
What kind of plays, Mike?
"Just plays that I've run for a long time dating back to college and plays that I've had success with here in training camp," he said.
Glennon's parents are flying in for his professional debut and he's excited to learn from the experience.
Joe sure hopes the Bucs' second-team offensive line holds up for Glennon. Running for his life is not Glennon's strength. He's a giant target with pulling-guard speed.