Look For More Rollouts From Freeman
August 6th, 2013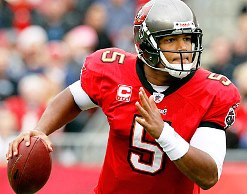 Joe noticed something new the past couple of days (no, not just the upgrade in Bucs cheerleaders this season). Monday and today, Joe noticed several designed rollouts by Bucs franchise quarterback Josh Freeman.
Last season, Bucs coach Greg Schiano all but forbade Freeman to roll out, for twofold reasons: Schiano didn't want to see Freeman hurt, and Schiano was desperately trying to cut down on Freeman's picks from the previous hideous season, in which Freeman played Santa Claus way too often.
So Joe had to chance to chat with Bucs offensive coordinator Mike Sullivan after practice and asked if the rollouts are a new wrinkle this year, or if they were already part of his playbook, just not utilized last season.
"It is in [the offensive package] and we had some success when we moved the launch point of him whether it is a pure sprint out or we are actually faking the ball, or have him naked and move it around," Sullivan said of Freeman's rollouts. "It is such a great complement, especially if you can run the ball. Any time you don't set up in-between those guards, the defense always talks about getting to them off the spot. Well, if we can beat them to the punch and take them off the spot it helps. It is something we have done and we will continue to incorporate that into our package."
Bravo. The season Freeman blew up, 2010, he often rolled out and hit receivers, Mike WIlliams, Sgt. Winslow or Arrelious Benn, for big gains. Home runs. It was almost as if Freeman was more comfortable throwing on the run than staying in the pocket.
Freeman has serious wheels for a big quarterback. Why not try to utilize those skills to generate some offense? Joe believes this is a smart move by Sullivan.