Josh Freeman Helping Tom Crabtree
August 4th, 2013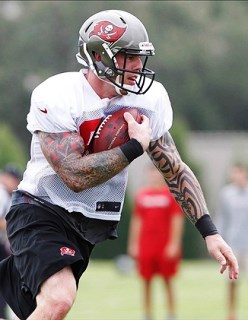 Training camp is all about opportunities. When given a chance, make the most of it.
With Mike Williams and Tiquan Underwood out with minor injuries, reserve wide receiver Chris Owusu has blown up and is making a serious run to secure the No. 3 wide receiver position.
Same with undrafted free agent corner Rashaan Melvin. With Darrelle Revis still in a very limited role as he rehabs his knee and Johnthan Banks with a very minor hamstring issue, a lot of corners have been getting more snaps than usual. Melvin has made the most of those snaps, reinforcing to Bucs coaches and front office types what they thought about Melvin: a hidden gem.
Now comes tight end Tom Crabtree. It was a toss-up whether he would start. A career backup at Green Bay in a log jam at tight end, the Bucs held Crabtree in high regard both for his receiving skills and his good blocking.
It appears Crabtree is going to be a hard man to keep out of the starting lineup. With fellow tight end Luke Stocker out with calf trouble, Crabtree has done just about everything Bucs coaches have wanted.
"They are leaning on me to do whatever they ask," Crabtree said after practice Saturday.
Crabtree is still a novice in Mike Sullivan's offense; he freely admits this. But Crabtree gave Bucs quarterback Josh Freeman a shoutout for doing whatever he can to help Crabtree master Sullivan's playbook.
"With me learning the offense, he has done a good job of talking to me after a play or if I have a question after the play, he will talk to me about it," Crabtree said of Freeman. "I am still learning and he is helping me along the way."
This is just another example to the anti-Josh Freeman faction that their psychotic dreams of backup Mike Glennon starting over Freeman in the New Jersey Swamplands on opening day against the Jets are ludicrous.
It would be a helluva trick for Glennon to help Crabtree learn the offense when Glennon has stated publicly, three times by Joe's count, that he is not ready to start.