Secondary Already Improving
August 2nd, 2013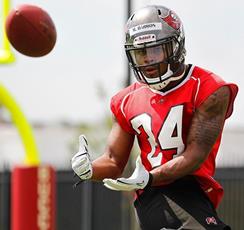 Well, with the Bucs coming off a rancid, historic rotten pass defense last year, a cynic could argue the Bucs had nowhere to go but up. True, if Bucs rock star general manager Mark Dominik decided to stand pat. He didn't.
Adding safety Dashon Goldson and rookies Johnthan Banks and Rashaan Melvin to the mix, as well as star corner Darrelle Revis, the Bucs could go from worst to first in the defensive backfield.
The lone returning starter in the secondary is safety Mark Barron. This is a man unaccustomed to losing. While at Alabama, Barron had nearly as many title rings as losses. Speaking with the Tampa Bay pen and mic club yesterday, you could see both how disgusted Barron was with the pitiful pass defense last year, and how much improved he believes the Bucs secondary is this year.
 "Last year, that's not what we want. That's not what we want for ourselves," Barron said. "We have a lot of guys making plays. We have some young guys making plays like Melvin and Banks. They have been stepping up the last few practices. We have guys all over the field making plays. It's looking good and we are expecting a lot from ourselves."
Notice Barron dropped the name of Rashaan Melvin, the same undrafted free agent both the Bucs organization and coaching staff is high on?
And this is still with Revis relegated to working on the far fields of One Buc Palace, guarding camp meat that will be an assistant general manager of Publix in the not too distant future.
Barron had his pride bruised last year. Combined with a season to redeem himself and key teammates now surrounding him, it sure smells like the Bucs' secondary will be nasty for opponents.
If the Bucs pass rush doesn't improve from last year, each one of those guys in the secondary will earn every penny they collect from Team Glazer.