Forcing The Franchise Tag
August 2nd, 2013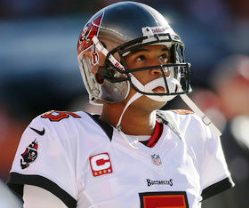 Bravo to NFL Network for this very intelligent video breakdown of the state of Josh Freeman in the Bucs' organization.
Joe has yet to see better from the media.
Brian Baldinger talks about his personal interaction with Freeman and the sense of urgency within the New Schiano Order, among other topics, and Jamie Dukes explains that another 4,000-yard season from Freeman won't matter much without consistency.
Dukes is of the mind that Freeman could simply have a solid season and force the Bucs' hand into the franchise tag, which would be worth a $20 million, one-year payday in 2014.
Joe wonders where Team Glazer stands on Freeman. The Bucs have made it clear through the years that ownership is part of major decision-making. Clearly, any future move regarding Freeman would meet that threshold.