Freeman Now Fluent In Sullivanese
August 1st, 2013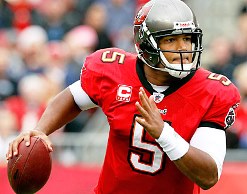 Big year for Josh Freeman. Heard that before? In the first year of Mike Sullivan's offense, Freeman struggled, let's be honest.
Sure, he threw for franchise-record yards. Given the quarterbacks in Bucs history, is that really a laudable accomplishment? Yes, Freeman threw for over 4,000 yards last year, a feat also eclipsed by a veritable Who's Who of quarterbacks, including such NFL luminaries as Don Majkowski, Scott Mitchell, Steve Beuerlein and Bill Kenney.
Joe's all about wins. One can spin stats all they want but at the end of the day, it's about wins.
Yes, Freeman is in the second year of the Mike Sullivan era. This means a great deal to Freeman. Stability, which Freeman has not had in his short career, breeds success. Look at what happened when Alex Smith finally had some stability with Jim Harbaugh. The man was a special teams fumble from a Super Bowl.
Even Freeman admits he's well-advanced from last year when it comes to being able to talk turkey with Sullivan and knowing what the hell Sullivan is talking about, documents Tom Krasniqi of WDAE-AM 620.
Over the course of his career, Freeman has had three different offensive coordinators so continuity has been an issue. But Freeman is optimistic that with a year of offensive coordinator Mike Sullivan's complex system under his belt, things should move more smoothly in year two. Overcoming the "language barrier" as Freeman put it has been instrumental in his development. Less thinking, more reacting.

The Bucs have placed a heavy emphasis on two-minute situations. On Wednesday, Freeman and the first team excelled. Down 21-17, the offense drove the ball downfield with Freeman hooking up with wideout Mike Williams twice on the drive. Freeman culminated the drive with a touchdown pass to WR Kevin Ogletree. "Most of the games last season came down to 7 points or less, two-minute drives," Freeman said. "It's something we want to work on every day."

Freeman has struggled at times with accuracy during training camp. He attributes those struggles to the improved defense he faces each day. "It has made it a little more difficult at times," Freeman said of the defense. "We just have to continue to run our stuff and persevere."
If Freeman's words are not enough for you, how about Vincent Jackson's? Yesterday, Joe asked Jackson how players felt about being with Sullivan for a second season and Jackson told Joe that since all the players are speaking the same dialect, Sullivan has been able to add new wrinkles to the offense, sort of like a Spanish I student in high school advancing to Spanish II.
With a healthy offensive line and an advanced understanding of a complex offense, Joe really does expect Freeman to play better this season.