10-6 Is Significant For Schiano's Bucs
August 9th, 2012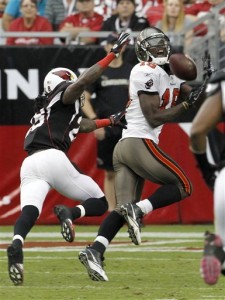 Just in case you forgot, Joe falls into the camp of Bucs fans that believes the Bucs had significant talent last season but collapsed under a head coach that let things get out of control and coordinators that didn't do much right during a 10-game losing streak.
There's a reason the Bucs were 4-2 off a 10-win season. And that 10-win season, one many fans dismiss as supreme luck from the football gods, still looms as significant, so says Bucs icon Derrick Brooks. Ol' Double Nickel explains in a video interview on Buccaneers.com.
"These [2012 Bucs] are better. These guys are better than we were in 1996," Brooks said.  "Because they've been together and had that success of a 10-6, where in '96, we hadn't. You know, we were just a bunch of young guys that really don't have but one proven winner, Hardy Nickerson, on our football team. But this year you've got a bunch of guys that have won some games. …

"We  had a little extra that I want these guys to get. We were hungry. We were thirsty. And we did whatever it took to win. You know, we said little. We listened a lot. It didn't come together for us at first. Can this team be mentally tough to deal with bumps and bruises? That's what we gotta wait for the season to find out."
Brooks went on to give Greg Schiano a supreme compliment. (Click above to grab the whole video.)
Well, the '96 Bucs went 6-10 under Father Dungy. If Brooks says these Bucs are better, then Schiano surely should be feeling a lot of pressure to win. He has the horses on offense to get it done, but the quality of the coaching staff and the defense remains a mystery.