Leonard Johnson Laying The Wood To Receivers
August 6th, 2012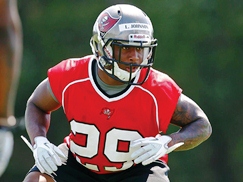 One of the feel good stories of the past few months was how former Largo and Iowa State standout cornerback Leonard Johnson fell through the cracks of the draft, enabling the Bucs to sign him as a rookie free agent.
Now it's too early to tell if Johnson will make the final roster come September. There's a lot of practices and preseason games to play for Johnson to leave his mark. Even he admits to Joe there's work to accomplish before he can think of being a Bucs cornerback this fall.
Rest assured Johnson is leaving his mark in training camp. And those marks are bruises and welts on Bucs receivers.
From time to time, a receiver will make a play on Johnson. But that play will come with a price. Punishment.
Johnson is nothing if not a physical player. He just doesn't tackle receivers, he lays them out. It's an attribute that fans enjoy and Johnson admits he has cultivated.
"I kind of developed that mentality in college," Johnson said. "I was pretty tough [in high school] but back then, I was picking and choosing my battles. Now, it is only right that I bring it to the table each and every time."
Many defensive backs try to blast receivers, partly because they are trying to get in a receiver's head, making him think more about the coming hit more than concentrating on the ball. Johnson said that's not why he tries to distribute pain.
"Not really, it's just playing football," Johnson said.
Johnson confesses he's been thrown some obstacles in training camp, but just as much he has opportunities as well.
"I just have to be consistent," Johnson said.