Injuries Have Hijacked Myron Lewis' Career
August 3rd, 2012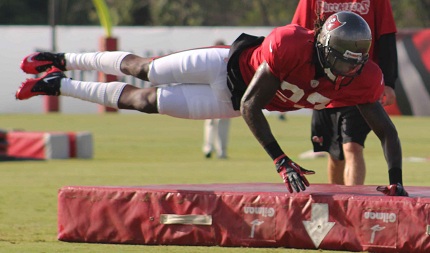 Since Myron Lewis was drafted in 2010, he's been pretty much a mystery because people have heard of him but few have seen him. That's mainly because Lewis has been plagued by injuries, including troublesome hamstring problems.
As a result, it could be argued that Lewis has been behind the 8-ball. It's hard for a player to develop in the NFL if he can't get on the practice field much less struggle to get on the field during games.
But this season the tide may be turning for Lewis, a former Vanderbilt University standout. With injuries to E.J. Biggers and new free agent pick up Eric Wright having troubles with minor injuries himself, Lewis suddenly finds himself healthy when the team is experiencing depth issues.
"Opportunities are opening up for me and I am just trying to play hard, play fast and play physical," Lewis said. "I'm trying to stay healthy. I'm buying in. I try to play my technique right and do the best that I can."
No one was more frustrated with his injuries than Lewis himself. Because of his bum hamstring, Lewis is certain he has been unable to develop into a quality NFL corner.
"Injuries are frustrating, especially playing at cornerback," Lewis said. "With a nagging hamstring injury, it is hard to go out there and cover the receivers. You saw Derelle Revis. He had a hamstring injury and it was hard for him.
"Hamstrings will set you back because you cannot play to your full potential and you cannot play at full speed. You will not be able cover receivers because they will be at top speed and maybe you are at 65-70 percent. You are not going to be able to do that."
While Lewis admits he has been able to attend meetings in the past and stand on the sidelines at both practices and games, he says it doesn't compare to actually being on the field.
"Lack of reps definitely will hurt," Lewis said. "A lot of people will say the mental reps are good but you need the physical reps. Get on the field and go through the plays."
After two years of mostly bad luck, Lewis can feel the tide turning.
"I have the opportunity out there to play fast and balls to the wall, just trying to stay healthy. I'm kind of blessed with the opportunity."