Steve White Talks Bucs
July 9th, 2012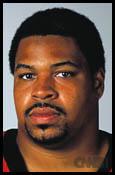 You want softball, weakass takes on the Bucs and the NFL?
If so, then you better not listen to the interview below with former Bucs defensive end Steve White.
White joined JoeBucsFan.com on 1010 AM last week to talk all things Bucs, as Joe served as fill-in host for Justin "The Commish" Pawlowski. White explains whether he thinks practice discipline will equal wins, why he's not sold yet on the Bucs' playcallers on both sides of the ball, as well as his takes on Eric Wright, Gerald McCoy and more. … The interview picks up about 1 minute in. Click the arrow below.
Audio clip: Adobe Flash Player (version 9 or above) is required to play this audio clip. Download the latest version here. You also need to have JavaScript enabled in your browser.