Shame On Talib's Attorney
June 19th, 2012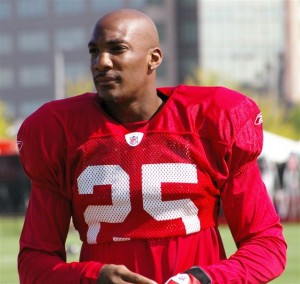 Joe has no problem with attorneys. In fact, Joe knows lawyers he likes very much. Joe even reads the Dolman Law Group blog regularly.
That written, Joe can't believe Aqib Talib's attorney, Frank Perez, horribly screwed up the public relations end of Talib's felony assault case in Texas, which was dismissed yesterday by the State. This Perez guy dropped the ball so bad Joe conjured disturbing memories of Michael Clayton.
Perez was gift-wrapped a golden opportunity to tell the Tampa Bay Times that the case against Talib was dropped because he had 20 or so witnesses that never saw Talib fire a gun, or that it was dropped because Talib is innocent, or that it was dropped because the State's alleged case was the weakest he's seen in years. But no, Perez tells the Times that the "bottom line" was that the case was dropped because the alleged victim is a sleaze.
"I guess the district attorney, in preparing for trial, had a chance to evaluate the case," Talib's attorney told the Times Monday. "The bottom line is that the complainant is sitting in jail as a repeat child molester and has prior cases of the same nature."
Remember, Perez told JoeBucsFan.com last year that "we've interviewed 17 or 19 witnesses and none of them say Aqib Talib had a gun. He wasn't handling a gun," Perez said.
Again, Perez really sold Talib short in the PR department by telling the biggest Tampa Bay newspaper an unfavorable spin of the "bottom line," as he called it. Joe talked to the Dallas County District Attorney's office yesterday and the only comment they would give was that the case against Talib was dropped "in the interest of justice." Hell, that sounds a lot better than what Talib's lawyer served up.
Of course, the defense attorney's choice of words, which hardly make Talib look good, were picked up nationally and, ultimately, loads of fans are left with the assumption that Talib only got off because he shot at a bad dude.
Now this post is not meant to upset Talib and have him go take an intimate cab ride with his attorney, but Joe is appauled by Talib's attorney not having his back in the court of public opinion.