Keith Tandy Just Might Be A Safety
April 28th, 2012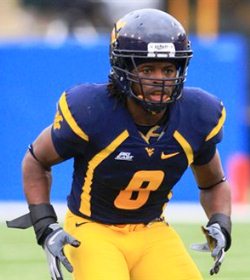 You know it's getting late in the draft when there is scant information about a drafted player. That's the case with Keith Tandy, a cornerback from West Virginia.
It may be that Tandy could be converted to a safety, but he fits the mold of the New Schiano Order in that he is a versatile player. What he may lack in skills as a cornerback suggest he could play safety, in a breakdown of Tandy found on CBSSports.com.
Positives: Best fit is in a zone scheme and lacks the vertical speed to shadow elite receivers. Keeps the ball and man in front of him in zone and might be a candidate to convert to safety. Thickly built for a corner and closes with intent, chasing laterally and is effective bringing down bigger targets.
Since Tandy played in the Big East, obviously Schiano knows this guy. Perhaps he sees or knows something about Tandy few others do? That's Joe's hope.