Morning Cup Of Joe
March 30th, 2012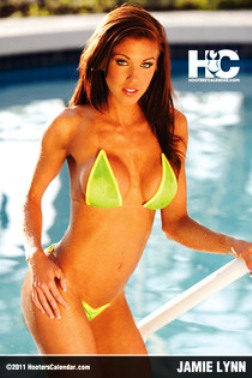 Start your day with the Morning Cup of Joe from HootersCalendar.com. And don't forget to visit HootersCalendar.com for amazing videos, pictures and cool gifts. It's Joe's second favorite website.
Bucs news forthcoming.
Naughty Bengals cheerleader reinforces to Joe he went to the wrong high school. [TheBigLead]
Los Angeles NFL stadium proposal is imploding. [Yahoo! Sports]
Roger Goodell will be NFL warden commissioner for "30 or more years." [BSPN]
Eagles looking for "a sucker" to trade Asante Samuel with. [PFT]
Take brain injuries seriously. [TB Brain Injury Blog]
Luke Scott's power. [RaysIndex]
And finally, since it is a mere hours away from the weekend, Joe will almost assuredly have some beers. So in a strange way, Joe can relate to a drunk Canadian who breaks out in "Bohemian Rhapsody" while being detained in a squad car by Canadian Mounted Police.