"Woozy," Bloody Penn Says No Concussion
November 24th, 2011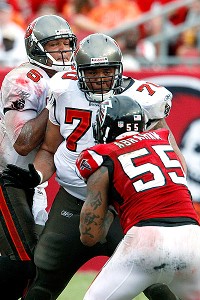 Joe knows NFL linemen on both sides of the ball are a different breed. These guys take a level of pounding really impossible for a layman (that includes you former high school linemen) to imagine.
Joe got an early feel for what goes on when Joe worked as a very young man for a collection agency. One of the dudes in arrears that Joe was hounding was a former New York Giants lineman who shared a lot of stories.
As much as the NFL has tried to protect players — to the detriment of the game — there's not much that can be done along the lines. It's very much still old school football down there. That was evident listening to Donald Penn talk about how sacrificed his head Sunday in Green Bay and got drilled so hard his facemask resembled a pretzel.
"My facemask was bent bad," Penn said. "A.J. Hawk was running through on one of the run plays and I came down hard. I usually not a big head guy, but I tried to get a piece of him. I dove out and threw my body at him and we hit heads. You know, I got up.  I stumbled a little bit. I was a little woozy for about five plays, though. But it was OK. My nose was bleeding a little bit. But I didn't know my facemask was bent until, you know, I got back here on Monday and they had my facemask up there. I looked at it. They had to change it; it was bent pretty bad. That really doesn't happen too often. I'm just surprised, I'm glad I didn't have no concussion or anything, seriously. I was fine and able to keep going."
Penn offered the comments on The Donald Penn Show on WDAE-AM 620 on Tuesday night. Host and former Bucs TE Dave Moore had asked Penn to explain the rarely seen mangled facemask.
Penn didn't miss a play and didn't mention anything to coaches or trainers during the game or since, which serves as a reminder of how violent and manly football still is in the trenches. Joe can only imagine how many traumatic brain injuries that are dished out every game that nobody every knows about.