Bucs Don't Owe Free Agents
June 26th, 2011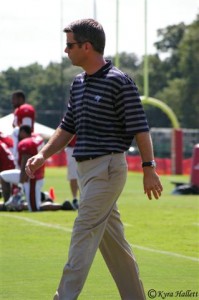 Joe was planning a rage-free Sunday, but that ended early when Joe read the latest proclamation from St. Pete Times beat writer Stephen Holder.
It seems Holder has mounted a thoroughbred and is selling the concept that the Bucs owe their free agents a great-faith effort to re-sign them otherwise the owner and management are nothing more than hot air salesmen.
Whether you remain skeptical or buy every word of it, the moment of truth has arrived for the Bucs' stated intent to lock up their up-and-coming players.

For a team that has consistently, though not wrongly, eschewed free agency and maintained that its wish is to invest in homegrown talent, the opportunity has arrived to make good on those promises.

If, as anticipated, the collective bargaining agreement being negotiated includes provisions for players with four or more years of experience to earn unrestricted free agent status, the Bucs will have many such players to make decisions on, including MLB Barrett Ruud, G Davin Joseph, LB Quincy Black, RB Cadillac Williams and OT Jeremy Trueblood.

The Bucs will make earnest attempts to re-sign them or watch them walk. The latter route would mean the Bucs would be taking a path different from the one promised since the Jon Gruden-Bruce Allen regime was still in place.
Sorry, Joe doesn't think the Bucs would be breaking a promise if Cadillac Williams, Jeremy Trueblood, Quincy Black, Barrett Ruud, etc., are encouraged to test the free agent market and, possibly, move on.
What's always been implied/understood in the Bucs' stated interest in re-signing "homegrown" free agents is the simple fact that the Bucs value the players and think they're better than whoever else might be available.
Joe doesn't want the Bucs re-signing guys on principle; Joe wants the Bucs paying guys who have major game and are worth the money. Trueblood probably isn't that guy. Black probably isn't that guy. Cadillac probably is. Ruud is surely on the bubble, depending on his contract demands.
Let them all walk if the guys behind them are better or there's another team's free agent who's a better fit.
This isn't girl scouts or some lame second-grade soccer league where kids aren't allowed to keep score and everybody has to be nice to little Jonny and play fair.
A new labor agreement will force the Bucs to spend a pile of cash. Joe expects Mark Dominik to spend in whatever way puts the Bucs in a spot to get a ring, not to live up to a media sound byte or an exact philosophy.