Talib Grand Jury Has Ruled
May 26th, 2011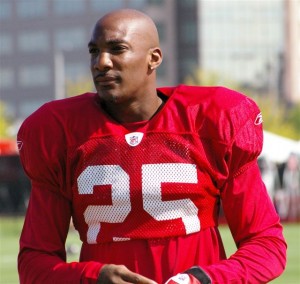 UPDATE of Wednesday post: Rick Stroud of the St. Pete Times is reporting Talib has been indicted. No surprise. Read below.
Joe called the good folks at the Dallas County Grand Jury office [Wednesday] afternoon and learned that Aqib Talib's felony assault case went before the court and the court has ruled.
However (and Joe teased you a bit with the headline), the ruling will not be made public until late Friday morning, so Joe was told.
Don't expect Joe to start banging the phones to be the first to break the result. Frankly, Joe isn't that eager because Joe expects Talib to be indicted, which won't really mean much.
As esteemed Dolman Law Group attorney Bryan Hannan educated JoeBucsFan.com readers earlier this month, a Grand Jury will indict a ham sandwich. All it means is the case will move a step further along.
Of course, if Talib is indicted, it becomes much more likely that a deal between Talib and the State will be struck, especially considering how flimsy the evidence appears to be against him.
Joe can't help but wonder if/when Talib will come train with his fellow Buccaneers as the lockout drags on.