Talib's First Judgement Day Comes May 18
May 5th, 2011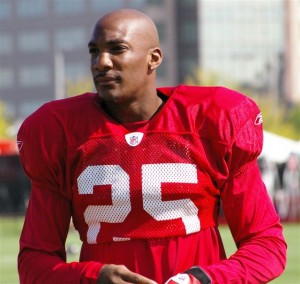 The good folks at the Dallas County District Attorney's office told JoeBucsFan.com yesterday that a grand jury will hear the case against Aqib Talib on May 18 at 9 a.m.
If the grand jury returns a felony indictment, then the case would move to district court. Rachael Jones, the prosecutor assigned to the case, did not return calls seeking comment. (Must be a Cowboys fan).
Simply stated, the grand jury will review evidence in the state's case and decide whether to indict Talib or give a thumbs down on the aggravated assault with a deadly weapon charge against him.
Talib has no right to testify, but could be subpoenaed as a witness. His attorney would not necessarily be present or involved beyond being able to advise Talib. The proceedings are closed to the public — online or in person — and the happenings are not available for review.
Attorney Bryan Hannan, of the esteemed Dolman Law Group, said Talib won't appear before the grand jury and there's little doubt Talib will be indicted.
"Talib will 100 percent not be called as a witness. The old adage is a grand jury would indict a ham sandwich. All they're saying is there's enough evidence to go forward," Hannan said.
Grand jury testimony can not be accessed at trial.