Wednesday, March 5th, 2014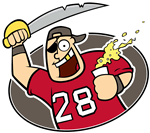 Joe's launched a new, somewhat mysterious feature. Somewhere around 11 p.m. each night, Joe's is posting a very cool video from his partners at USA Today. So far, they've all related to the NFL Draft, but that will change.
What makes this unique is Joe is taking down the video in the early morning. So it will only be a treat for late-night readers. Joe hopes you enjoy it, and if you miss it, well, that's OK, too.