Predators In The Dark
July 13th, 2018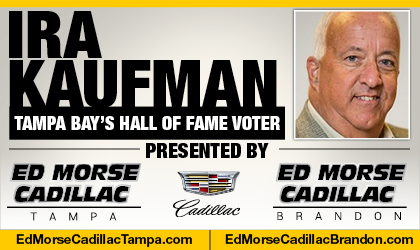 BY IRA KAUFMAN
The sweet smell of success has a nasty habit of turning rancid at One Buc Place. This brain trust is hoping anonymity has its privileges.
It seems nobody outside of Tampa Bay is offering this franchise any sniff of respect. Even hordes of Buc fans are falling off a bandwagon that appeared crowded a year ago.
According to Vegas, the over-under win total for Tampa Bay is 6.5. Only the Browns, Cardinals, Dolphins and Jets are ranked lower.
Public perception of this team has flipped abruptly. From a rising young power, the Bucs are now a national afterthought.
That's what a 5-11 season will do for an organization that eagerly said good riddance to those Hard Knocks cameras.
Ever since they were defending Super Bowl champs, the Bucs have been unable to handle success. Back in 2003, Jon Gruden bristled when some reporters were skeptical of the club's staying power.
"People keep asking me these questions, like we're just going to curl up in the fetal position and be kicked over on the street," Gruden said. "We know what it takes to win now. We like the taste. Hopefully that's a great motivator."
Then the Bucs went out and finished 7-9, never the same after Peyton Manning torched them on an unforgettable Monday night while Tony Dungy savored a stunning birthday present.
Stunted Progress
After Gruden regrouped to win the NFC South in 2005 under Chris Simms, the Bucs promptly went 4-12, allowing 142 points more than they scored.
Flash forward to 2010, when Josh Freeman led Tampa Bay to a 10-6 mark under second-year coach Raheem Morris. The Bucs sat on their wallets in the ensuing offseason, losing their final 10 games after a 4-2 start.
And lest we forget, a 9-7 record in 2016 raised expectations before this last mighty fall. Heck, the Bucs can't even deal with success within a season.
They've won each of the past two openers under Dirk Koetter, only to go AWOL on the road the following week.
In 2016, after surprising an Atlanta team that would end up in the Super Bowl, the Bucs lost 40-7 at Arizona, buried by five turnovers.
Tampa Bay trounced Chicago in last year's opener, then trailed 21-3 at the half in Minnesota before losing 34-17.
"Expectations were progress — I said that from the beginning," Jason Licht lamented after the 2017 season. "The record doesn't show that we made progress. We failed to meet those expectations."
Even some Stick Carriers seem resigned to an 0-3 start this year. More than a few are already looking ahead to the 2019 draft.
Golden Silence?
Yes, this team is flying so low, the Bucs might collide with a few drones over Sun City.
"You don't want people talking about you," says Gerald McCoy. "That makes you that much more dangerous. You catch people off guard. You can be the Jacksonville Jaguars, the Buffalo Bills."
If the Bucs tend to find the spotlight distracting, perhaps they can be predators in the dark. There's enough talent on this roster to compete. What's been missing is the mental toughness to focus each week on the challenge of a new opponent.
A guy by the name of Lombardi said it best.
"Winning is not a sometime thing; it's an all-time thing," Vince said. "You don't win once in a while, you don't do things right once in a while, you do them right all the time. Winning is habit. Unfortunately, so is losing."
Time to break some bad habits, fellas.
Now in his 40th year covering the NFL , Ira Kaufman is the most revered sports personality and writer in the Tampa Bay area. He scored a full-time seat at JoeBucsFan.com world headquarters in July of 2016. Tampa Bay's only Pro Football Hall of Fame voter, Ira busts out columns here every Monday, Wednesday and Friday, and his award winning podcasts fire Tuesdays and Thursdays. You can also hear Ira on SiriusXM Mad Dog Radio Wednesdays at 5 p.m. during football season. Also a TV start, see Ira now on Mondays at 10:30 p.m. on Spectrum Sports 360 (aka BayNews 9). Ira also is part of the FOX-13 Tailgate Sunday NFL show and enjoys beet salads, Riesling, Chiefs victories and needling Joe.