"It Looks Like He Has A Rocket Up His Ass"
May 17th, 2018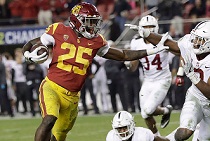 There's a fresh scouting report on rookie running back Ronald Jones from inside the walls of One Buc Palace.
It comes from none other than the chief scout himself, general manager Jason Licht.
Jones, the 20-year-old electric second-round pick from the University of Southern California, has impressed already in limited practice with the Bucs.
He's no Doug Martin or Charles Sims or anyone else that's been here since 2014, Licht said on WDAE-AM 620 today.
In fact, Licht suspects a performance-enhancing object might be lodged in Jones' buttocks.
"When he would run the ball [in college], he would run it with authority, you know, he would hit that hole quick; he would hit it hard. And he's not afraid to face-up a linebacker. He's not afraid to run through a linebacker. You would think he's a 220-pound guy the way he ran," Licht said.

"Every time you put on the tape, you would see the aggressiveness but then you would see the fluidity, the hips, the burst and the speed, and the explosive speed isn't something we haven't had at that position in a long time, at least since I've been here. He's already shown that [at Bucs practice] that he's got it. It's very deceptive, but it looks like he has a rocket up his ass at times."
Fun stuff. Joe's happy to get caught up in the hype.
Don't fumble in preseason, Jones, protect Jameis when you're asked to, and hit the hole like a pack of wild dogs is chasing you. If Jones does that, Joe is confident Dirk Koetter will trust him with touches and good things will happen.