"In His Fourth Year, I Mean, It's Time. It's Time."
April 6th, 2018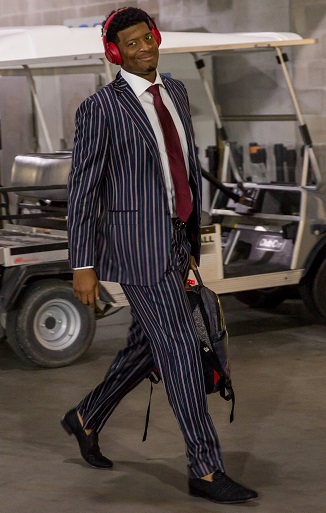 A Buccaneers icon got a chance to deliver a state of Jameis address recently, and he did not disappoint.
Yes, America's Quarterback, Jameis Winston, is at a crossroads of his career. Take a look at modern NFL history and try to find a starting QB who got a fifth season with his team after four years starting consistently without a playoff appearance. Good luck!
Hopefully, Jameis breaks into the playoffs this season. If he doesn't, he'll find himself into that very rare and rocky boat — and entering a contract year.
Right now, Jameis is an average quarterback in the NFC. Don't think so? How many general managers would prefer Jameis over Jared Goff, Russell Wilson, Matthew Stafford, Aaron Rodgers, Drew Brees, Matt Ryan, Cam Newton or Carson Wentz? Those are half the QBs in the conference.
So it is a very, very big season ahead for 24-year-old Jameis.
Ronde Barber was on WDAE-AM 620 recently and was asked about Jameis but was not asked a leading question. He simply was asked to say where he sees Jameis in his career right now. Here's the verbatim response:
"Well, Jameis was hurt. And I expected big things from Jameis last year. If you listened to anything that I said during preseason, I was expecting that next step from Jameis. Right?" Barber said. "Jameis Winston is without a doubt talented. There is no question that he has the arm strength. He has the intellect. He has the confidence and the courage to be a top-level quarterback in the NFL. What I need him to do, and what I think every Buc fans wants him to do, is take that next step where he's not mistake-prone, where he can lead a team when it matters, he can put you on his shoulders and win a football game.

"And for all intents and purposes, from what I understand, he's doing that. He's in the gym getting better. He's a great person for this football team to have. And the distractions around them are what they are, but as a football player, I'd build my team around Jameis Winston. I don't think anybody in the building, or anybody around this team should doubt that.

"Jameis has the talent, the moxie, the whatever it is, the attitude, the leadership qualities to lead this team to where it needs to go. He just needs to do it. I think he has the right people around. I love his quarterback coach. [Mike] Bajakian is a great quarterback coach. Dirk Koetter puts a lot of faith in Jameis. And in his fourth year, I mean, it's time. It's time."
Joe applauds Barber's well-stated assessment. Everything is there for Jameis to jump out of the average ranks and take a big step toward great in 2018.
It is time. It's time.