Healthy Jameis Equaled Turnover Jameis
January 2nd, 2018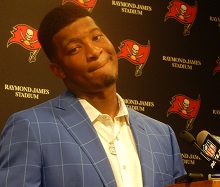 If America's Quarterback, Jameis Winston, protected the football better this season, how many more games would the Bucs have won?
Great question.
Of course, Jameis, like any quarterback, will have turnovers. You can't eliminate them all. But Jameis led the NFL in fumbles this season with 15 in 13 games, after being a big fumbler last season.
Jameis didn't fumble much as a rookie, only six, so it's an escalating problem.
What perhaps was most troubling about the fumbles, and the interceptions, was that Jameis had a rough time with ball security after returning healthy against the Packers following a three-week healing time for his sprained shoulder.
Here's the line:
Packers – lost fumble for a TD
Lions- 2 picks and a fumble lost
Falcons – no turnovers
Panthers – 3 lost fumbles
Saints – 3 interceptions
For the math challenged, that's five interceptions and five lost fumbles in his last five games.
Suppose Jameis cut those totals in half? The Packers game went to overtime and the Bucs lost to the Panthers and Lions by a combined six points.
It's intriguing to think about what a Jameis who protects the football could be.
And it's why Joe is lobbying for a new quarterbacks coach. Sometimes a fresh set of eyes and a new voice can make a difference. Three years of Mike Bajakian with Jameis and The Franchise is having costly ball security issues.
Joe's not blaming Bajakian. But for some reason, some things aren't getting through to Jameis. A new voice and teaching approach could represent a wake-up call.