The Morning After
December 11th, 2017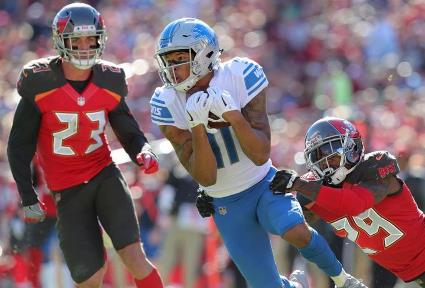 For some reason, Joe is sitting here this morning like a mental patient watching a non-stop loop of Matthew Stafford completing passes. Oh, wait — it's a replay of yesterday's game.
1. Honest to goodness, the story yesterday wasn't the Bucs losing or Jameis and his turnovers but the hand grenade Ian Rapoport of the NFL Network rolled into the bunker that there is a mounting rift between America's Quarterback and Bucs coach Dirk Koetter. It shocked Joe. Why? In recent weeks, Koetter, speaking publicly on various platforms including his regular appearances on SiriusXM NFL Radio, has been over-the-top in his defense of Jameis. That sure doesn't sound like a guy that has developed an anti-Jameis agenda. Shoot, Friday night on SiriusXM NFL Radio, Koetter all but said as long as he is the coach of the Bucs, Jameis is his quarterback. Koetter had an interesting take when asked about the report Sunday. "I know the truth." He didn't go much further. He didn't need to. Jameis sure got fired up talking about it, as if he was offended that anyone would ask him such a question. Joe heard indirectly, off-the-record from a high-placed suit at One Buc Palace, that Rapoport's report was 100 percent unadulterated cattle manure. Of course, the family that owns the Buccaneers also knows the truth. But where did this come from and why now? Joe immediately smelled two likely sources. One would be Jameis' agent. But why the hell would that be planted? It does Jameis no good at all, unless his agent believes the Bucs are such a trainwreck it's time to start muddying the waters to develop an exit plan in order to save Jameis' career. Honestly, this seems as far-fetched as Rachel Watson actually wanting to wrestle with Joe between the bedsheets on a chilly winter night. Or, more logical, Chucky is working (again) behind the scenes. And to further speculate and go all fifth column here, what if this was a coordinated effort between Chucky and Jameis' camp, as if Chucky had been in touch with them saying, "This is what I can do for Jameis… " And to think Rapoport's report comes out eight days before Chucky is to be inducted into the Buccaneers Ring of Honor. How ironic that? Potentially, a guy trying to stage a forced abdication is being feted by the same organization on which he's conducting a hostile takeover. Man, the Bucs have almost as much drama swirling over their heads as former Bucs commander Greg Schiano had when the Bucs hosted the Dolphins in a prime time game that had all the features of a zoo with the animals turned loose. Should be interesting television next week.
2.  You know, Jameis actually didn't play bad at all yesterday. Yeah, well, except for those three turnovers. Other than that, how was the parade, Mrs. Kennedy? Look, Joe is a defender of Jameis and will continue to be. He's the best quarterback, talent-wise, this team has ever had. That doesn't mean Joe is an ostrich. These turnovers are going to get good people fired. All the good plays Jameis makes, all the times he brings the team back (he tied the game in the fourth quarter and – altogether now, WWWWHHHHEEEE!!! – the defense urinates in its pants!) Joe doesn't give a damn if Caleb Benenoch is a revolving door at right tackle and Evan Smith cannot pass block. Jameis simply has to hang on to the football as if it is Tootsie in a hurricane. It's one thing to throw a pick here or there. It happens. But to fumble the damn ball each and every game is killing the Bucs. Jameis and the Bucs are not yet good enough to regularly overcome turnovers. On the fumble yesterday, Jameis said he doesn't have eyes in the back of his head. That's exactly why he needs to hang onto the ball for dear life. You think Chucky (in theory) wants to tolerate all of these turnovers? If Jameis has one goal this offseason (other than never to use a ride-sharing service again) it is to learn how to hang onto the football. Go hire Mike Alstott as a consultant. He learned how to overcome a bout of fumbleitis. As Thomas Bassinger of the Tampa Bay Times points out, the Bucs are 1-10 when Jameis throws two or more picks. This team, again, simply isn't good enough for Jameis to overcome his turnovers. Only until the defense is at least half-arse (as opposed to its current state of just plain arse) can the Bucs do that.
3. Speaking of the defense, you hear that laughing? There's a guy in the middle of the Illinois cornfields that is in a fetal position, howling in laughter so much the dude is bawling like a baby. That would be inept Lovie Smith. Matthew Stafford completed 82 percent of his passes yesterday. Think of that: Completed 82 percent of his passes. That is just unfathomable to Joe. And stop with the whining about no pass rush! Aside from that accident against the Jets, the Bucs haven't had one this season. How about a novel concept, Mike Smith and company? Coach up one or more of your friggin' players. You can't get Will Gholston to man up and find a way to sack Stafford? Or Robert Ayers? Or shy, belly shirt-wearing, practice-hating, kicker-heckling, tree-grinding , non-contact-football-loving, chicken-wings-grilling, playing-time squawking, TV cooking star Swaggy Baker? The fact the Bucs couldn't get a pass rush on Stafford, any at all, says more about the Bucs coaches than it does about the (lack of?) talent on the roster. Hell, Lovie likely had less to work with yet he found a way in 2014 to squeeze a combined 8.5 sacks out of homesick Ghost Johnson, weed-carrying, kneeling Akeem Spence and gun-totin,' guitar-plucking Da'Quan Bowers.
4. Joe is pretty sure Koetter doesn't care about fan wrath and is much more concerned with somehow finding a way to win a game or two. Still, Koetter didn't do himself any favors in the court of public opinion by starting washed up Doug Martin yesterday instead of Peyton Barber, who the week prior in Green Bay was the first Bucs running back this season to run for 100 yards in a game. Barber may not be Tony Dorsett, but this just in, neither is Martin. Dude is done. Washed up. Finished. What exactly about the last two years, when Martin hasn't rushed for a 100 yards in a game, suggests he's going to magically spring to life? Koetter sure didn't help himself or quell the growing unrest among Bucs fans by making a futile decision to start Martin, who has shown nothing, over a guy that damned near led the Bucs to a win on the road.
5. It is an utter disgrace that since Chucky was fired, only three times have the Bucs not finished in last place, including this season. Throw in the s(p)itty home record in the same time span and that's Cleveland Browns territory. At least the Bucs aren't dumb enough to pass on drafting a quality quarterback prospect when given the opportunity like the Browns, but the Bucs are dumb to let a strong defensive end walk away for no good reason, then cry in their stale beers how they can't play defense because they don't have a pass rush. Letting Michael Bennett walk away was a stunt only the Brownies would have pulled off with pride. Why, this losing year after year after friggin' year is such an affront, some high school with the nickname "Buccaneers" should file for a trademark violation the same way the feds tried to jam the Redskins with over their nickname. Joe asks you what is more offensive, this tripe this franchise has thrown together since Chucky was jettisoned or a team nickname? There are a helluva lot of Bucs fans who have ripped doors off hinges over the constant kick-in-the-nuts losing. The only difference between the Browns, Bills and Bucs, the three teams with the longest playoff droughts (assuming the Rams and Jaguars make it this season)? The Browns and Bills had a change in ownership after Chucky was jettisoned. So at least the Browns and Bills can be given somewhat of a pass.