Day 2 Minicamp Notes & Observations
June 14th, 2017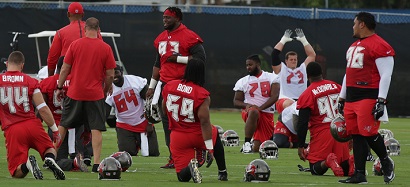 Updated: 9:15 p.m.  – The delay is over! It's Joe's world famous practice notes from today's mandatory minicamp action at One Buc Palace. Joe was patrolling the sun-drenched fields, mingling with legions of invited season ticket holders and scribbling all kinds of notes on the no-pads, underwear football session.
Enjoy!
*Roughly 300 fans were packed in watching practice behind a couple of end zones and in a small area on one sideline. Very mellow group. A few oohs and ahhhs at nice plays, but perhaps the greatest response came when it was demanded by America's Quarterback, Jameis Winston. During a no-defense drill with QBs simply rolling out and throwing to running backs, Jameis rolled right and threw a six-yard pass to Doug Martin. Martin caught it (again, zero defense) and Jameis yells to the crowd, "Let's hear it for Doug!" and starts clapping. Fans in earshot responded to Jameis and gave Martin an ovation and support. Martin almost seemed embarrassed. Jameis didn't do that for anyone else, and Joe didn't see Jameis try to fire up the crowd any other times.
*After stretching, practice opens after stretching and Jameis soon after hits Adam Humphries in the end zone.
*Short pass to the right to O.J. Howard who ends up 1-on-1 with a fast approaching Brent Grimes, with nobody else too close. Whistle blows, but that would have been a darn interesting clash if it was real football.
*Rough day for Ryan Fitzpatrick, who underthrows Chris Godwin and it's a near pick (incomplete) by veteran cornerback Josh Robinson. Not long after, defensive coordinator Mike Smith calls over Robinson and they have a brief but intense coaching kind of exchange.
*No. 3 QB looks sharp early. Donteea Dye is too good for the third-team defense and Griffin hits him for a deep strike.
*DROP! A bad one by camp meat tight end Tevin Westbrook.
*Second-year tight end Alan Cross shows good hands in the back of the end zone during a drill.
*DROP! A bad one in 7-on-7. Sorry, Joe can't tell if it's Josh Huff or Freddie Martino. Though considering Happy Hour was packed tonight at the Vero Beach Ramada Inn, Joe's guessing it was Huff.
*Undrafted rookie cornerback Jonathan Moxey strips rookie receiver Chris Godwin after a catch. Nice finish on the play, Moxey. Good lesson for Godwin.
*Adam Humphries gets the best of Javien Elliott. Another strong day for Humphries. Rudy!
*Look who's back taking kickoffs. Mr. Brent Grimes. Looks pretty smooth, too. Much better than Lavonte David taking in punts.
*Undrafted rookie receiver Bobo Wilson takes in a tough catch on the left side in 7-on-7. It's an FSU flashback to 2014.
*No public kicking today. Kickers and punters spotted doing a whole lot of soccer ball juggling, tennis ball juggling (damn impressive, Nick Folk) and laughing.
*Red zone work kicks off with Jameis firing a too-low dart to Humphries. Was it intentionally thrown away? We'll never know.
*Bucs line up five-wide, and it's Mike Evans, Humphries, DeSean Jackson, O.J. Howard and Doug Martin. That's an underwear soiler for a defensive coordinator.
*Bad overthrow by Jameis of Evans.
*TD Humphries across the back of the end zone. Smooth and easy.
*Charles Sims takes in a short red zone pass and displays his famous dancing feet. You know, the ones that are awesome at times and/or drive Bucs fans insane.
*Fitzpatrick complete to Cameron Brate over the middle but no TD.
*Fitzpatrick then picked off on a dreadful throw to seemingly nobody. Javien Elliott squeezes the gift near the goal line.
*More red zone and it's Jameis to Brate for a TD, but Joe's not giving props. Jameis took too much time. Unrealistic.
*Griffin fires to Russell Hansbrough who drops a ball in the end zone. It's juggled up into the air and camp meat linebacker Cameron Lynch can't catch the ball that fell into his arms. Gotta make plays to make the team, guys.
*Griffin to Luke Stocker for a touchdown, and Stocker proceeds to spike the ball like it was late in the third quarter of a playoff game. Yes, that Stocker, the mild mannered veteran. Man, all that DeSean Jackson swagger really is wearing off.
*Back to 7-on-7 and it's a TD on a slant. Jameis smooth to Humphries.
*Fitzpatrick incomplete to, well, Joe has no idea of what Fitz was thinking there.
*Jameis to Sims for a sweet touchdown catch with linebacker Devante Bond covering tightly. Those sweet hands of Sims appear again. So silky smooth.
*FLAG! New safety J.J. Wilcox gets the rare yellow hankie from the in-house officials in the back of the end zone. He does not like the call.
*Mr. Grimes now catching punts.
*Back to 11-on-11 and Jameis completing to Doug Martin on the left side. Smooth catch by Martin. He juggled a similar ball yesterday. Next, Jameis tucks and runs.
*Fitzpatrick redeems himself a bit with a nice 20-yard strike over the middle to Humphries. Lotta zip on that ball. Elliott in tight coverage.
*Late red zone work (lots of that today) has Jameis reliving 2016 with a TD pass to Brate. Chris Conte is a half step late.  But it's a classic underwear football moment with Conte unable to drill Brate.
Final minicamp fires tomorrow. Stick with Joe for all the need-to-know. Tuesday's practice notes are right here.