"I Feel Great … Even Better Than Before"
June 16th, 2017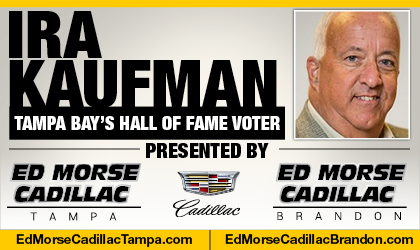 Ira Kaufman, the most beloved and esteemed columnist in town, has hung his hat at JoeBucsFan.com world headquarters since July 2016. Tampa Bay's only Pro Football Hall of Fame voter, Ira's columns pop here every Monday, Wednesday and Friday, and his award winning podcasts fire Tuesdays and Thursdays.
BY IRA KAUFMAN
There's a long list of Buccaneers with much to prove in training camp.
Doug Martin is still trying to rebuild trust with teammates and coaches. Roberto Aguayo is trying to show his rookie struggles are behind him.
Noah Spence is trying to convince Mike Smith that he's more than just a situational pass rusher. Ali Marpet is trying to make the difficult transition from guard to center — with no experience at the position.
But this to-do list would be glaringly incomplete without mentioning, or perhaps even focusing, on a man who just spent a year mired in NFL purgatory.
Yes, I'm talking about J.R. Sweezy, who arrived in Tampa amid hype and expectations only to experience "the hardest year of my life."
After leaving Seattle to sign a free-agent contract with the Bucs, Sweezy didn't play a single snap as Tampa Bay finished just short of an NFC playoff berth. Sweezy's back mysteriously required surgery and nobody at One Buc Place, including Sweezy, is eager to reveal the details of exactly what went wrong.
At this point, who cares? What's important is he's back, ready to provide a maligned offensive line with a nasty presence at right guard.
"I'm excited to put the pads on and start playing some real football again," Sweezy said after the final day of mandatory minicamp yesterday. "I feel great … even better than before. No limitations. I want to do as much as I can to help make this a championship team."
Sweezy can start by setting the kind of physical tone up front that helped Marshawn Lynch and the Seahawks earn a reputation as a powerful running team. That bruising ground attack was a key component behind two Super Bowl trips, including an NFL championship that capped the 2013 season for Seattle and Sweezy.
Brawler's Resumé
"Have you seen Sweezy?" asks left tackle Donovan Smith. "Do you see it? He's mean. He's a fun guy, quiet, but on the field, you see it."
You don't become a state heavyweight wrestling champion in high school by backing down during competition.
You don't become an NFL starter as a seventh-round draft pick — a converted defensive lineman — by lacking confidence.
At the age of 28, Sweezy figures he's just hitting his prime. A big part of the reason Marpet is being shifted to center is an effort to get Sweezy on the field.
He intends to reward Tampa Bay's faith.
"We have a very good football team," he said. "As long as we can stay on the same page and play for each other, we'll be fine. It's true that talent isn't enough.  That's why I feel the cohesion around here has only just begun.
"I've got my teammates' backs, so when we go to play, whatever happens happens. I've got their back and they've got mine. We're going to do what it takes to get the 'W.' "
Meeting Lover
The way Dirk Koetter looks at it, adding a healthy Sweezy is like landing an additional premium draft pick. And if Sweezy can deliver as advertised, an offense that took a step back in 2016 could set franchise records.
"We were real excited about what J.R. would bring to the group last year," Koetter said. "Unfortunately, he had to miss the season. J.R., in his 50-something starts in Seattle, was an extremely physical player."
Sweezy can't wait to get going and Koetter can't wait to see Buc running backs reach the second level — a rarity last fall.
"I like our group up front, I think we can be one of the very best lines in the NFL," Sweezy said. "Ali is doing amazing at center and we'll all continue to grow until we're where we want to be."
Besides Sweezy's family, nobody is rooting harder for his success than Jason Licht. Tampa Bay's fourth-year GM wants to see a return on investment after last year's washout.
Buc fans are hoping Sweezy's wonky back holds up for 16 games. It's worth noting that Seattle's ground game plunged from third to 25th after Sweezy's departure.
"This is a good group of guys and coach Koetter is a players' coach," Sweezy said. "I love the team meetings and the messages he brings. He really gets us going. I know what people are saying about us, but that's just noise. We need to stay grounded as a football team. As for me, I'm raring to go."
Sweet music to a Stick Carrier's ears.