Ryan Griffin No. 32
May 17th, 2017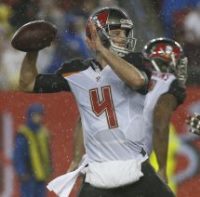 It seems winning Bucs coach Dirk Koetter better be lighting plenty of candles this offseason in hopes that America's Quarterback, Pro Bowler Jameis Winston, stays healthy.
That's the opinion of Eric Single of SI.com. He ranks every backup quarterback in the NFL and says Bucs backup Ryan Griffin is dead-last in the NFL.
Griffin hasn't collected a stat in four years as a pro, and Jameis Winston hasn't missed a game since September 2014, when he was serving a suspension during his final year at Florida State. There are no sure things in the NFL when it comes to injuries, but the Bucs are making a relatively safe bet in leaving the cupboard pretty bare behind their sturdy franchise QB.
Joe has stated time and again;  if your starting quarterback goes down, your hopes of a Super Bowl go out the window. Unlike a lot of fans, Joe doesn't lose sleep over who is backing up Jameis. (Yes, Joe knows what Brock Osweiler accomplished, and that Brad Johnson didn't start every game in 2002.)
For if Jameis goes down, so too go the Bucs, unless Brett Favre wants to come out of retirement.