Interest Amplified
April 20th, 2017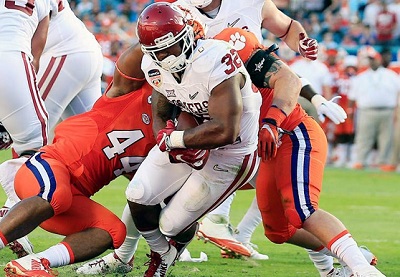 Five weeks ago, Joe wrote about the other Oklahoma running back, you know, the one who is the Sooners' all-time leading rusher and the ball carrier who didn't disfigure a girl by punching her in the face.
The good guy is Samaje Perine, who told PFT Live on NBC Sports Radio this morning that the Bucs have showered him with interest, including a private workout and a visit to Tampa.
Regarding Perine's teammate, Joe Mixon, Joe is all for second chances. But sorry to the Mixon bandwagon, second chances for certain dudes look a lot better in other cities. For example, Joe was totally against the Bucs signing — and re-signing! — noted sleaze tight end Jerramy Stevens.
Perine is a bruising beast at 5-11, 233 pounds, a guy who breaks tackles, runs with fierce authority and stood out as a strongman freak at the NFL Scouting combine, out-benching most of offensive linemen.
More important, Perine has produced — big time.
The young man averaged 6.0 yards per carry in college through 685 carries in three seasons. And 49 rushing touchdowns has a nice ring to it. Perine missed a few midseason games last year with a pulled leg muscle, but he came back to finish strong, including 17 carries for 86 yards and a touchdown against Auburn in the Sugar Bowl.
Perine is often projected as a third- or fourth-round pick.
Interestingly, Joe heard the well-spoken Perine on CBS Sports Radio a few weeks ago selflessly talk about what a great teammate Mixon was, and how Mixon is a little misunderstood.
Is Perine the right fit for the Bucs? Could he pound in between the tackles and wear down defenses while being complemented by Charles Sims, Jacquizz Rodgers and Peyton Barber?
Maybe. And that maybe the Bucs' interest got amplified a bit today.