"Worst To First"
September 3rd, 2014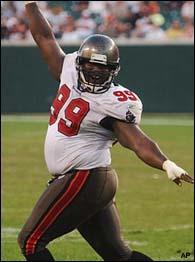 If you want to watch Michael Irvin and Warren Sapp slow dance, then you want to watch this NFL Network segment.
Sapp and his fellow analysts stand around and decide what 2013 playoff teams will be ousted from the postseason.
Of course, their replacements are named.
Sapp says the Bucs are a worst-to-first team, believing "Kurt Warner's understudy," Josh McCown will get it done.
This doesn't surprise Joe at all. Ever since Lovie Smith was hired, Sapp has been selling that the Bucs have the pieces on defense and that Lovie's system will fix all on that side of the ball.
Sapp even got irritated with Joe at Super Bowl media day when Joe sat with Sapp and dared to suggest Da'Quan Bowers and Adrian Clayborn might not be the edge rushers Lovie wants. Sapp was confident those two would blossom outside of Greg Schiano's misplaced college defense.
The confidence in McCown, however, Sapp's former teammate in Oakland, is a much newer phenomenon.