"No Doubt I Was Rooting For The Panthers"
September 3rd, 2014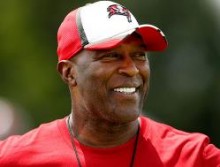 Who knew Lovie Smith was a Panthers fan during all those hours in his Chicago basement last year?
The Bucs head coach explained this afternoon, though there's no word on whether Lovie does that Cam Newton Superman celebration when nobody is watching.
"No doubt I was rooting for the Panthers [last year,]" Lovie told the Carolina media today. "I think you win games a similar way that Ron [Rivera] had his team winning games last year. Dominating defensive front. Dominating front seven. Play hard on defensive side. Take the ball away.

"On the offensive front, really good on third downs, able to run the football. I think any person that really likes, you know, football would like the way they played last year."
Joe advises Bucs fans to take note of Lovie's comments about offense. Yes, Lovie want to pound the rock on Sunday — and every day.
Remember how he applauded 17 first-half rushes against Buffalo?
Once upon a time, Lovie fired Ron Rivera, the Panthers head coach, when Rivera was defensive coordinator in Chicago. Lovie didn't want to talk about his past with Rivera to the Carolina scribes, but he did call Rivera "a friend."