Welcome To Lovieball
August 16th, 2014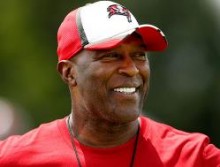 Joe can only imagine the absolute glee pulsing through Lovie Smith's body in the second quarter tonight.
Gerald McCoy beat Dolphins guard Dallas Thomas yet again, and knifed past their center and belted quarterback Ryan Tannehill to force a fumble recovered by Michael Johnson.
Then the Bucs pounded the ball on the ground, hit a 10-yard safe pass to tight end Brandon Myers near the left sideline, ran the ball, and then Josh McCown stepped up in the pocket and pumped a 10-yard pass into the back of the end zone, where big Vincent Jackson caught the easy TD in between too-short defensive backs.
It was Lovieball, fresh out of the old school, Tony Dungy playbook. Heck, Joe was waiting for Puff Daddy to blare through the stadium speakers to really take the home crowd back to 1997.
Get used to it. Hopefully.
That was the kind of football the Bucs dream of, with a little deep-ball flair mixed in.
Joe's not sure how far it will take the Bucs, but it looks like we're going to find out.