Training Camp Night Practice Notes — Day 7
August 1st, 2014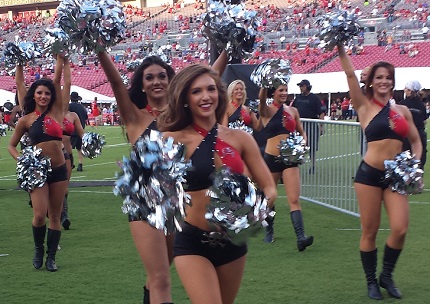 The Bucs entertained just shy of 15,000 fans tonight at their annual training camp night practice at the Stadium on Dale Mabry Highway. The autograph hounds were out hawking current and former Buccaneers. And there was even football being practiced on the field.
*Alterraun Verner sits out his fourth consecutive padded practice. Cornerback Rashaan Melvin also is on the shelf, as is fellow cornerback Mike Jenkins. Joe's doubting Verner suits up Friday night in Jacksonville. Dashon Goldson and center Evan Dietrich-Smith also got the night off. Dietrich-Smith has a bruised foot.
*Mike Evans had chance at ball thrown high in end zone. Never tried for it. Leonard Johnson with tight coverage. Looked like Evans had a shot.
*Robert Herron saved a kickoff return for a touchdown by tackling Solomon Patton.
*Rookie tight end Austin Seferian-Jenkins makes high catch over a double team. Crowd roars in approval.
*Doug Martin takes a dumpoff pass from Josh McCown, spins through traffic for six. Crowd liked that, too.
*Eric Page snags a bullet form McCown down the middle for a 15-yard gain.
*Bobby Rainey with a nice gain off a catch in the flat.
*McCown with great placement over a defender's hands to Louis Murphy for six.
*Defensive line coach Joe Cullen sounds like the monster in Young Frankenstein. He always sounds that way. It's not because he's all talked out from discussing his beloved Red Sox gutting their roster.
*McCown throws between double coverage to Vincent Jackson for about 20 yards along right sideline.
*Mike James rolls right throws to V-Jax in end zone for score. Jackson continues his standout camp.
*Jeff Demps takes handoff from shotgun and scores on short run.
*Mike Glennon loses the handle rolling out in 7-on-7 work.
*Brandon Myers a short catch from McCown. May be the first sighting of Myers since training camp started last week.
*Glennon goes over the middle to Mike Evans, who skies over defenders and snags the pass thrown slightly behind him.
*Glennon rollout to Murphy for a touchdown.
*No field goal net, so Bucs ask fans to throw balls back.
*Dane Fletcher with a scoop and score after a fumble.
*Glennon rips a bomb deep to Owusu who got behind three defenders for a score.
*Demar Dotson feels the pain of a Will Gholston bull rush in drills.
*Anthony Collins and Michael Johnson are an even match in the battle of big-cash free agents.
*Nobody on this Bucs O-line can stop Gerald McCoy.
*Umm, Mike Kafka and Alex Tanney tied to win the QB skills challenge. Joe's hoping that's just meaningless fun competition between the four QBs.