Tedford Clarification Still A Little Fuzzy
August 28th, 2014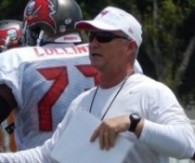 Offensive coordinator Jeff Tedford had some sort of medical procedure following Saturday's preseason game in Buffalo. Since then, the Bucs have provided little information on Tedford's condition and timetable for return.
General manager Jason Licht offered a hazy but positive update during tonight's TV broadcast of the preseason finale against the Redskins.
Licht said Tedford would be part of preparations for opening day opponent Carolina, but Licht was non-committal on whether Tedford would call plays in 10 days.
"We don't want to rush him back," Licht said.
Licht assured the viewing audience that Tedford would, in fact, return at "100 percent."