NFL.com: Bucs In Boone Swoon
August 11th, 2014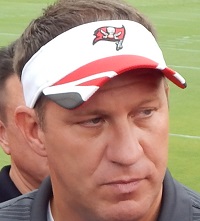 Lovie Smith told media and, indirectly, fans to not overreact after a few ugly series by Tampa Bay's first-team offensive line on Friday.
But now it seems the Bucs are pondering an overreaction.
NFL.com super insider Ian Rapoport is reporting tonight that the Bucs are one of the teams interested in trading for unhappy 49ers guard Alex Boone, who refuses to play (to date) for the $4 million or so due him in 2014.
NFL Media Insider Ian Rapoport reports, via a person informed of the Bucs thinking, there is real interest in a Boone trade at the right price.

Another Buccaneers source tells Rapoport there have been no "real" conversations with the 49ers yet, but the front office touches base with all teams to discuss who might be available.
Feel free to click on through above for more.
As a paid NFL employee, Rapoport has general managers on speed dial and gets all kinds of scoops. But that doesn't mean he gets it right all the time or doesn't get played with misinformation.
Joe's not saying Rapoport is wrong, but Joe can't see how it makes sense for the Bucs to pull the trigger to trade for a grumbling guard who wants to get paid big bucks. If the Bucs were so high on investing in guards, then they would have drafted one higher in May. They had ammunition to make that happen. Or they could have kept Jeremy Zuttah, who would have looked like a Pro Bowler compared to what was showcased Friday in Jacksonville.
No, Joe doesn't think the Bucs are about to alter the course of their grand plan after a few preseason series. That would be an overreaction Lovie said was unnecessary.