Lovie Pumped For Mike Jenkins' Return
August 29th, 2014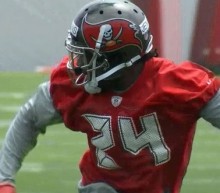 Cornerback Mike Jenkins has been roaming around Bucs practice and game sidelines for 30 days with a floppy fat instead of a helmet.
Amazingly, Lovie Smith is still super high on him and said so today at One Buc Palace.
Lovie said Jenkins and others in his boat (Da'Quan Bowers?) have been staying in the game mentally, and Lovie was pumped to get a helmet back on Jenkins next week.
"It's looking good for him," Lovie said of Jenkins. "We realize how much he's missed. We're anxious to get him back on the practice field. Mondays' practice will be pretty big for us."
Of Jenkins and other healed Bucs, Lovie said the missed time could be a blessing.
"He's fresh and ready to go. So we'll get the best of him," Lovie said. "He should be able to last through the season the season a lot longer, the wear and tear he didn't go through with the grueling training camp."
Joe just doesn't get the excitement for Jenkins as a potential starter. He hasn't been good in a long time, and Johnthan Banks is a young talent on the rise. Hopefully, Lovie is on the money and Jenkins will surprise Bucs fans with standout play.