Is Incognito Signing Up To Bucs Players?
August 26th, 2014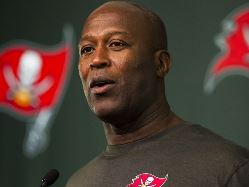 "All players that are available, we look to see if they fit into our program. All players. I will leave it at that. If we are really interested in someone, we will bring them in. Again, we are looking at everyone constantly, not just now. Every position.
"We consider everything. The total player and what he brings. Off the field; on the field, the total package comes into play. Every player we draft; every player we sign. It is very important that a player fits in the locker room. If a player doesn't fit in the locker room, we have to go into another direction, it is as simple as that. You have to be accepted in there." Bucs coach Lovie Smith, Aug. 11, 2014, when asked if he would consider sleazy guard Richie Incognito.
Yesterday, Bucs coach Lovie Smith, when peppered from all corners during his post-practice press conference about how he could infect his locker room with the likes of sleazy Richie Incognito, all but responded with the same reaction as he did two weeks prior. At that time, Lovie was asked if he would dabble with signing Incognito.
Little did anyone think at the time the Bucs may have been in the midst of their own Incognito investigation.
Yes, Joe was in the locker room when players were asked about the possibility of Incognito coming to the Bucs. While the words of the players were supportive, body language wasn't. There was zero sense of excitement from the players of the news they may have a new teammate with a notorious past. Joe got a look from one player he very much respects as if the player was saying, "You are not going to ask me about Incognito, are you?" Words from players were carefully meted.
"Obviously, if they think he can help us win, they'll bring him in," Dietrich-Smith said of Incognito. "Lovie always talks about if you bring a guy into the locker room, you gotta accept the guy, you know, make him feel he's part of the Bucs."
Even uber-nice right tackle Demar Dotson said he would like to talk to Incognito "man-to-man" to gauge where he stands and what happened in Miami.
"Everybody deserves a second chance at life. I think that this is his second chance," Dotson said.
One thing is clear and would be made crystal clear to Incognito if he were signed. Not only are all eyes watching him, but he is not a team leader. EDS and to a lesser degree, Dotson, due to his elder statesman status, are the leaders of the offensive line.
Make no mistake. There is one natural leader for the whole team, that the entire teams looks up to and respects. That is Gerald McCoy, who yesterday seemed to draw a line in the sand about a possible Incognito signing when he said the Bucs were "my team," though publicly, he wasn't opposed to Incognito wearing a Bucs jersey.
"He is a very vocal guy and you know his personality," Bucs defensive end Adrian Clayborn said of GMC, the team leader. "It's easy for him to lead. It's easy for guys to follow him because he does everything right. Your play has to back it up and he has obviously been doing that."
If the Bucs do sign Incognito, Joe is pretty sure he will have to first pass the smell test with both GMC and EDS. And those two likely will lay down the law with him about what will and will not be tolerated in the Bucs locker room.
That is, if they and others in the locker room sign off on Incognito, and if Lovie does listen to his players as he has stated he would.