"In Time He Will Be Leading Our Franchise"
August 9th, 2014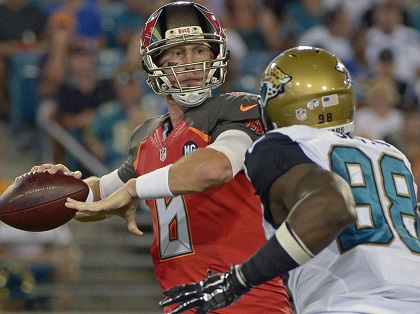 Why are Lovie Smith's words in support of Mike Glennon getting stronger?
In May, when Lovie said Glennon was his "quarterback of the future," Joe was stunned but somewhat soothed by the fact the quote was a rather vague one-liner. "Quarterback of the future," what does that really mean anyway?
But Lovie has issued a clarification. And it was delivered loud and clear during the halftime show of the Bucs-Jaguars game broadcast on WFLA-TV, Ch. 8, last night.
In a pre-recorded sit-down with Bucs icon Ronde Barber, the game's color analyst, Lovie said of Glennon, "In time he will be leading our franchise." For Joe, that was a huge step up from "quarterback of the future."
Does this shorten the mythical leash on Josh McCown? How many games will McCown be afforded to look like a solid starter, six, eight, 10, 12, in order to secure his job for this season and next?
Is Lovie trying to put more pressure on McCown after watching him through two weeks of training camp?
These are questions only Lovie can answer. But the Mike Glennon Mob certainly has new life this morning, courtesy of the head coach with a five-year contract.