"He Doesn't Make Mistakes"
August 8th, 2014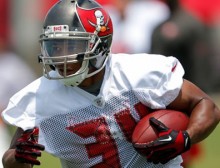 Did running back Charles Sims make any rookie mistakes tonight?
Did he look like a rookie?
Joe suspects Bucs fans are shaking their heads side to side.
Joe's glad fans got to see what they saw from Sims today. It was everything Joe has seen in practice. The kid looks the part. He doesn't look like a rookie and he's as diverse as advertise.
Mike Glennon spoke after the game about Sims on the Buccaneers Radio Network.
"He doesn't make mistakes in practice," Glennon said of Sims.
Glennon went on to praise Sims for quickly earning the respect of the locker room. Joe found that respect comment to be quite telling.
Sims caught all three balls thrown his way tonight, highlighted by a 27-yard catch and run. Sims also had a beautiful run called back and, like his comrades, struggled to find running lanes but the flashes were there.
Lovie Smith even grumbled after the game about poor run blocking.
Yes, it's one game for Sims against second- and third-teamers, but the signs were there. Joe's just glad fans got to see what Joe's been seeing daily from the third-round pick in practice.