"Hard Nosed Runner" Is "Coming Back"
August 27th, 2014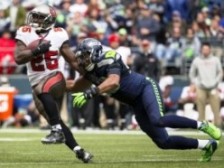 Tasty Bucs nuggets were dropped during the appearance of center Evan Dietrich-Smith on SiriusXM NFL Radio last night.
Of course, Joe was paying attention.
Longtime Colts personnel guru Bill Polian was behind the microphone and asked Dietrich-Smith about who was carrying the football for the Bucs and who impressed him.
A couple of things stood out with his long-winded answer:
First, Jeff Demps was not mentioned. Joe considers that another red flag on Demps' chances of making the 53-man roster. Dietrich-Smith mentioned every other running back, including injured Charles Sims.
Second, Dietrich-Smith specifically said the following about injured Mike James: "Mike James is coming back from his shoulder deal going on. He's a hard nosed runner, too, man."
This was great to hear about James. Lovie Smith hasn't revealed anything about James' status since he banged up his shoulder against the Dolphins 11 days ago. Teams aren't required to disclose injuries in preseason.
Joe is a James fan. The guy runs hard and looked fantastic in limited action last year. Just ask the Seahawks, who were thanking Greg Schiano profusely for mysteriously stopping handing the ball to James halfway through the fourth quarter of Seattle's overtime victory.
With a healthy Doug Martin, Bobby Rainey and James to start the season, plus maybe versatile fullback Jorvorskie Lane, the Bucs would have a solid backfield.