Grading Josh McCown
August 16th, 2014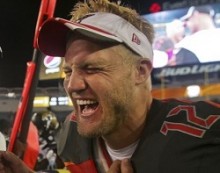 We know the new Bucs offense is under a veil of secrecy, but what about the new Bucs starting quarterback?
Consider Josh McCown has thrown just 11 passes in two preseason games.
For the record, McCown is 7-for-11 for 66 yards, with a touchdown and an interception. That's an awfully tiny sample size for the new leader of the Bucs offense, under a new offensive coordinator of an offense trying to find a rhythm.
Of course, Joe gets that it's preseason. So far, it's clear McCown has got plenty of tough guy in him, taking two very hard hits tonight on the Bucs' opening series, after running for his life last week. McCown is mobile (for now) but Joe's not about to place McCown among the NFL's scramblers. He can get out of trouble, but there's nothing in his history to suggest he's going to be improvising his way to victory.
Outside of a bunch of happy and accurate leadership love for McCown coming out of training camp, Bucs fans pretty much only have tonight's four-play scoring drive to hang their hats on. It felt good. McCown hit a couple of precision 10-yard strikes, including one to Vincent Jackson for a touchdown.
That one drive is driving an awful lot of hope.
Next week, with Lovie Smith playing his first team into the second half, a lot more McCown questions should be answered.