Did Lovie Send A Message To Mark Barron?
August 24th, 2014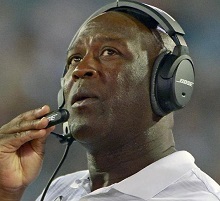 In Lovie Smith's official "dress rehearsal" for the 2014 season yesterday, Lovie trotted out second-year safety Bradley McDougald, an undrafted Dominik-Schiano pickup last year, as the starter at strong safety alongside Dashon Goldson.
No, Mark Barron wasn't hurt. And Joe, with his own eyes in Buffalo, saw McDougald working with the first team in pregame warmups.
This was very surprising and Joe's wondering whether Lovie was sending some sort of message to Barron. Throughout last week, Lovie told media that when, where and how much guys play against Buffalo will reveal an awful lot about what Lovie thinks of them and their roster status.
So what did getting stripped of a starting nod mean for Barron?
Joe's not sure. Barron played in the first quarter, and McDougald injured his knee in the game. Lovie offered a terse reaction comment after the game.
"We wanted to look at something else. For the most part, Mark Barron is a good football player," Lovie said.
That response surely left plenty to read between the lines, for those who like to engage in such activities.
Goldson told Joe after the game that McDougald, "B-Mac" as he's known by teammates, didn't come out of nowhere.
"Bmac, Bradley been doing a good job all through OTAs, through training camp. He's been making strides and making plays. His name has been brought up all throughout camp," Goldson said. "He's making noise. He's a young guy with talent and a bright future. Coaches like him. He's been highlighted. It was good. He came in and started the game off and did a good job. Like I said, he's pretty good."
Again, it's unclear whether yesterday's decision to start McDougald was anything more than rewarding a rising young player. Unfortunately, McDougald hurt his knee, which further clouds the picture.