Was Schiano "Too Into It?"
July 9th, 2014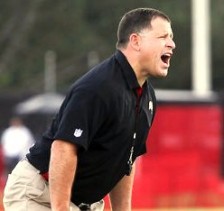 A national television audience listened tonight to the leader of the New Schiano Order get painted as a maniac who many Buccaneers couldn't deal with.
Adding to the intrigue was that the comment came from a Tampa Bay player not named Freeman who was a strong supporter of Schiano.
You can catch the Jim Rome show video below of Dashon "Hawk" Goldson on CBS Sports Network. Goldson suggests Schiano was a strong coach who was "too into it" and some Buccaneers couldn't handle how the head coach wore "his heart on his sleeve." (Translation: ripped them a new one repeatedly.)
Goldson said the current Buccaneers are enjoying a more "professional" environment. He also notes the irony of Drew Brees calling him out for being a headhunter while Brees was the leader of Team Bountygate.