Training Camp Notes & Observations — Day 6
July 31st, 2014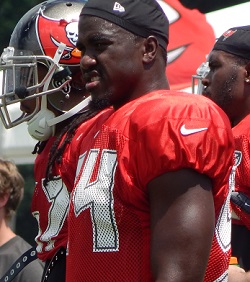 Training camp marches on at One Buc Palace, as your favorite Tampa Bay team was back in pads today after about a 20-hour break.
Of course, Joe was all over it. Here are the highlights and lowlights, including a little skirmish between two big-name Bucs:
*Lots of snap exchange work between Josh McCown and Evan Dietrich-Smith, and Mike Glennon and backup center Josh Allen.
*Short route running drill with McCown throwing. Vincent Jackson goes first and drops an easy pass. Normally, the receiver goes to the back of the line. But V-Jax was called back for another rep immediately. Joe's never seen that before. No question Bucs coaches want chemistry and confidence between McCown and Jackson. Yes, he caught the next pass.
*Mike Evans with an early drop.
*11-on-11 punt return work began (none yesterday) and Eric Page emerged again as the class returner. He's just smooth, no drops, and he took one up the gut to the house.
*FUMBLE! rookie Robert Herron. It was so bad coaches made him do pushups, 15 by Joe's count.
*FUMBLE! Solomon Patton. (No pushups required)
*Charles Sims and Skye Dawson were other returners.
*Lots of work on the running game in 11-on-11.
*Sims impresses repeatedly. Almost unfair the one time he was with the third team.
*Long snapper/linebacker Jeremy Cain gets hearty praise from Hardy Nickerson from a hit on Jeff Demps.
*Major violent collision between rookies Kadeem Edwards and Chaz Sutton.
*Luke Stocker with a textbook block on Gerald McCoy.
*Adrian Clayborn's get-off again looks a step slow often.
*McCoy intensely yelling at someone on the D-line from the sidelines: "Get your head up."
*Mike James gets violently clotheslined in a hole by the long arm of Will Gholston. Ouch!
*Former Bucs quarterback Shaun King, one of three Buccaneers QBs to lead the team to the NFC Championship game, is in the house. Joe has an educational discussion with King.
*McCown very pumped up by the red zone route running (during a drill) of Vincent Jackson. Chemistry is growing. The 10-yard laser was complete.
*Jackson spins around to grab ball in end zone that was thrown behind him. He's looking in regular season form.
*Page with a nice catch in the corner of the end zone.
*Streeter on a down and out route had ball in his hands but when he pulled it in, the ball hit his knee and popped loose. Rare mistake.
*Bad pick thrown by Glennon. LB Danny Lansanah, a second-year man out of UConn, read him all the way. Glennon appeared to hold on to the ball too long. On Lansanah's return, McCown, who wasn't part of the drill, stepped out of his middle of the field viewing point to challenge Lansanah.
*Glennon bounced back with a nice touch throw in the corner to Tommy Streeter. Get used to seeing lots of those two connecting in preseason games.
*Dawson with a drop, and Glennon with another off-target throw. Not a great session for No. 8.
*Finally. Jeff Demps catches ball in end zone in traffic and secures the ball.
*Demar Dotson handles Clayborn in 1-on-1, man-on-man work.
*Mark Barron playing a step off the line of scrimmage in some defensive looks in 11-on-11
*McCown looks quick on a broken play. He's no Glennon out there. Perhaps he can run as well as Josh Freeman did?
*Perfect 30-yard strike in corner of end zone from McCown to wide open Chris Owusu. Gorgeous throw. Coverage breakdown. Corner Danny Gorrer was lost and Dashon Goldson was late.
*Glennon short (bounce) to Dawson on 10-yard throw over middle. Glennon complete to Dawson on next play, 8-yard dumpoff.
*Jeff Demps tackled hard by Dane Fletcher on run up the middle with second team.
*Glennon with slant strike to Streeter. Anthony Gaitor was all over him.
*McCown gets intercepted by Barron, out of sync with V-Jax, but simply a throw he shouldn't have made.
*McCown bounces back on next throw, absolutely threading a 20-yard out through the Bucs' cover-2 defense. Gorrer and Goldson in coverage.
*Rookie fifth-round pick Kevin Pamphile has nice feet and shows a lot of hustle at left tackle. It doesn't appear the Bucs will try him out at guard at this point.
*Undrafted defensive tackle Euclid Cummings, out of Georgia Tech, doesn't look great on third-team D-line.
*SKIRMISH! Adrian Clayborn drives Doug Martin to the ground (looked excessive) on a wide-right run. Martin lands on his head, and he and Clayborn needed to be separated.
*Major Wright tosses a little trash talk at Lavelle Hawkins after Hawkins catches a McCown pass a yard behind the end zone. "All Day! All Day! All Day, baby." No response from Hawkins.
*Quick cut by Bobby Rainey.
*Keith Tandy breaks up a pass for Mike Evans. McCown should have thrown higher.
*Nice TD toss from Glennon to Louis Murphy on crossing route.
*Bad drop by Page with first team on short pass to right sideline. McCown slaps his hands.
*Connor Barth ends the final first-team drive with a roughly 35-yard field goal that splits the uprights.
*Bad drop by Dawson with second team offense in final 11-on-11 drill.
*Sack (at the least the training camp equivalent of one) for Akeem Spence of Glennon. Spence just imploded the second-team O-line.
Stick with Joe through the afternoon and evening for so much more from One Buc Palace.