The Return Of Anthony Gaitor
July 28th, 2014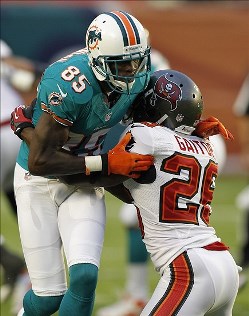 Recently, the Bucs let go of defensive back D.J. Moore who seemed perfect for the new defense under Lovie Smith because he played for Lovie in Chicago. Alas, he was waved goodbye to hours before training camp.
So it seemed there was some clarity in the secondary for the Bucs. Apparently not. Per Woody Cummings of the Tampa Tribune, the Bucs are bringing back a familiar face: Anthony Gaitor.
The Bucs are bringing CB Anthony Gaitor back into the fold. Also have signed DT Jibreel Black, a rookie out of Michigan.

— Roy Cummings (@RCummingsTBO) July 28, 2014
This seems odd to Joe at many levels. First, Gaitor was unemployed. What can you say about a football player who was playing Madden rather than practicing when training camps are open and underway?
Second, Gaitor missed most of spring workouts because he was dropped by the Bucs. So learning Lovie's defense in a handful of weeks might be a helluva challenge for the 2011 seventh-round pick.