McCown: I'm Thinking About Learning French
July 21st, 2014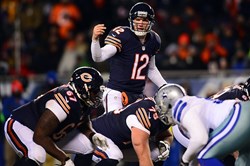 If Josh McCown hears voices in his head when they shouldn't be there, it's understandable. The Tampa Bay starting quarterback has burned through NFL playbooks at an alarming rate.
Joe doubts the NFL stats geeks keep track of such things, but during an exclusive chat with Joe, McCown agreed that he's on his 11th offensive coordinator, and that's not counting his stint in 49ers camp in 2011 and a 2010 dance with the Harford colonials of the UFL.
McCown may very well be the NFL record holder in offensive coordinators for QBs.
Just imagine all the football McCown has studied. The man has a Ph.D. in offense. He even coached high school ball four years ago, yet another playbook to master.
It's been a wild ride and McCown sees the pros and cons.
"I don't know, man. I'm thinking about learning French or something," McCown told Joe. "You know what I mean, it's like, it's a new language. It's part of my journey, part of where I've been and my story. So it's served me, in some respects, not as good, but in some respects well. The experience you get from getting to hear how different people do it. You see some things that you like, some things that you don't like, and you get to figure out what is the best way to do things."
Joe got some private insight from McCown on the Bucs offense, and it's no surprise McCown was comfortable altering Jeff Tedford's playbook to suit his strengths.
McCown isn't blowing smoke when he says Tedford brings a fresh approach.
"It's a big field. The game is constantly evolving. There are parts to it where the game football is just the game of football. It's still about numbers and leverage and all those things offensively. But at the end of the day there are different ways to displace those things, and that's what each coordinator can bring to the table, how he's going to get that done," McCown said.
Experience won't change McCown's situation, though. He must produce. So must Tedford.
McCown knows better than anyone that fans and coaches are impatient and demand results. Journeyman QBs don't get a lot of rope, not matter how wise they are.