Martin Says Bucs Are "More Awake" For Practice
July 28th, 2014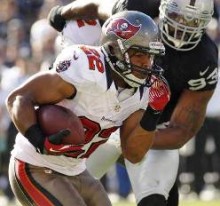 The typical day in training camp means arriving for work at 7 a.m. and leaving at 10 p.m. Players travel from the local Tampa training camp hotel by bus and stay together. It's a grind.
A major change this season has players more awake and ready for practice, says Doug Martin.
The simple adjustment is a big one. Lovie Smith is holding the second field session of the day in the broiling afternoon heat. Mornings are filled with classroom work, walk-throughs (which is the first field session of the day) and more.
Greg Schiano took great pride in being on the "details." Oh, Commander Schiano loved to trumpet details, but Martin was talking yesterday like Schiano might have missed one. The Bucs' top running back said the team is more ready for practice under the new schedule.
"I enjoy the time difference right now. We're more fresh. We're more awake and alert. I think it's definitely a benefit for us," Martin said. "And we also have the [season-opening] game around the same time. So it's definitely going to benefit us."
Under Schiano, the Bucs started practice about 8 a.m. Now don't get Joe wrong. This is not Joe trying to claim afternoon practices will take the Buccaneers to the Super Bowl. Lots of teams — good teams — practice in the morning.
But Lovie's also trying to change the mindset of a roster filled with guys programmed by Schiano. Afternoon practice represents another small way to get the culture and mindset of the Bucs where Lovie wants it. `