Lovie Smith: Dream Believer
July 2nd, 2014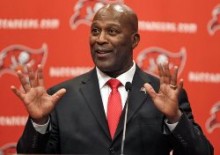 Lovie Smith loves to talk about undrafted free agents who started games for him in Chicago.
The Tampa Bay head coach admits he has a soft spot for the underdog, and believes the drive within a select few of them reaches a special level born from their battle-from-the-bottom status.
But Joe doesn't expect fans to get hot in the pants for blade-in-the-back defensive end Chaz Sutton and handpicked Euclid Cummings.
However, those are the hungry rookies Bucs general manager Jason Licht has singled out — and guys making Da'Quan Bowers wonder what he might collect in unemployment.
Given that Sutton and Cummings are defensive linemen, a position that does little of substance during underwear football season, Joe can't say much about those two. Sutton looks to have some standout quickness, and Cummings is very humble.
But Joe suspects their dreams are huge.
For Bucs fans who love to dream, Joe will leave them with this great list from TheSideLineView.com. It's a 53-man roster of current NFL players who were once undrafted free agents:
Not a bad team, huh?
Cincinnati

 

– Vontaze Burfict, Arizona State; James Harrison, Kent State
Houston

 

– Arian Foster, Tennessee; Elbert Mack, Troy
Dallas

 

– Tony Romo, Eastern Illinois
Denver

 

– Wes Welker, Texas Tech
Philadelphia

 

– Jason Peters, Arkansas
Cleveland

 

– Brian Hoyer, Michigan State; Miles Austin, Monmouth
Denver

 

– Wesley Woodyard, Kentucky
Detroit

 

– LaAdrian Waddle, Texas Tech; Joseph Fauria, UCLA
Jacksonville

 

– Chris Clemons, Georgia
Oakland

 

– Marcel Reece, Washington; Donald Penn, Utah State
San Diego

 

– Danny Woodhead, Chadron State; Antonio Gates, Kent State
Minnesota

 

– Erin Henderson, Maryland
Baltimore

 

– Vonta Leach, East Carolina; Justin Tucker, Texas
Miami

 

– Cameron Wake, Penn State; Brent Grimes, Shippensburg; Dannell Ellerbe, Georgia
Green Bay

 

– John Kuhn, Shippensburg, Tramon Williams, La. Tech
New York Giants

 

– Victor Cruz, U Mass; Cullen Jenkins, Central Michigan
New England

 

– Danny Amendola, Texas Tech; Brandon Browner, Oregon State
New Orleans

 

– Junior Galette, Stillman (12 sacks in 2013); Pierre Thomas, Illinois
Seattle

 

– Doug Baldwin, Stanford; Michael Bennett, Texas A&M
Carolina

 

– Quentin Mikell, Boise State
Washington

 

– Ryan Clark, LSU (most of career with Pittsburgh)
Buffalo

 

– Fred Jackson, Coe College
New York Jets

 

– Josh Cribbs, Kent State (coming off injury in 2013)
Recently retired or unsigned: