Jason Licht Talks About Carl Nicks
July 25th, 2014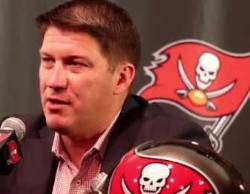 Just a couple of hours after the Bucs announced that the team and stud guard Carl Nicks parted ways, Bucs general manager Jason Licht met with the Tampa Bay pen and mic club to discuss the transaction.
Though Licht spoke highly of Nicks, he refused to give any details about a possible financial settlement of any sort with Nicks, nor would he discuss any salary cap ramifications.
"It is between Carl and the Buccaneers, the details," Licht said. "We wanted what was best for Carl. He wanted what was best for the Buccaneers and he didn't want to lead us down a path. We appreciated his honesty.

"Carl was an elite player and sometimes, these elite players, if they are not 100 percent, they don't want to expose themselves. He wanted to give us his best and he felt he couldn't be honest with us unless he was giving us 100 percent. … He did everything he could."
Licht stated Nicks' days with the Bucs are done. He was not placed on any type of reserve list.
"We were hopeful for Carl to play," Licht said. "We had open lines of communication [in weeks leading to today]. If he was able to play, it would have been a bonus for us. We've been talking for some time."
As for who will replace Nicks, even though rookie guard Kadeem Edwards took snaps with the first team in Nicks' absence in OTAs and minicamp this spring, Licht wouldn't say.
"Competition," Licht said of how the Bucs will handle the loss. "There may be some players elsewhere. We will go down every avenue we can. We feel we have the players."