Jason Licht Channels Joe Namath
July 24th, 2014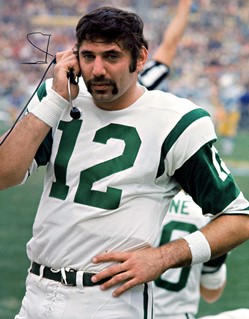 Right now for Bucs fans, thinking of the offensive line is enough to induce chugging bottles of Mylanta. It makes Joe thirsty, too, but not for a chalky indigestion elixir.
The Bucs, as of 6 p.m. last night, fully expected hobbled guard Carl Nicks to show up today. He didn't; he has an excused absence to tend to a family issue. Nicks, as we all know by now, has a bum foot, specifically a bum toe, and has played sparingly since coming to the Bucs in 2012.
If he can't play, on paper, the guard play looks grim. But don't tell that to Jason Licht. The Bucs general manager went all Joe Namath yesterday talking to the Tampa Bay pen and mic club.
No, Licht did not have a sultry babe hanging on his arm with a bourbon and water in his other hand. And, no, he wasn't wearing a full-length fur coat. No, Licht all but promised an unknown star will arise from the current roster of offensive linemen to shine this season even if Nicks can't play, not unlike Namath's proclamation the Jets would win the Super Bowl in 1968.
"There are a lot of players on this team besides Carl Nicks," Licht said. "I am excited about the guard situation, the guard competition. That will be a fun one to watch for training camp. I don't want to eliminate a name. We have Jamon Meredith. We have Kadeem Edwards who has been doing a lot of great things for us, [also] Patrick Omameh. There will be competition there. Someone will surprise us, I guarantee it."
Joe has to admit he likes a general manager brimming with confidence. Still, Joe is confident Bucs fans won't rest easy at night, no matter what Licht proclaims, until that unknown future stud arises and puts opposing defensive lineman on their backs, and them covers them with Mrs. Butterworths.
For the full Licht press conference, click the orange button below. courtesy of Joe's good friends at WDAE-AM 620.